The first Dutch corona case dates from over a year ago: the 27th of February, 2020. Even though most people are vaccinated now (62,2% as of today), the sudden restart of Dutch society sparked a new wave of infections. What do you think of how the Netherlands deals with corona? What are the latest measures against the virus in Holland? With this article, we'd like to share all the latest on COVID-19 in the Netherlands. All the measures, statistics, opinions, tips and more. Can you go to the gym again? Are schools and universities fully open? When and where do I need to wear a mask? Read and find out! This artice is kept up-to-date regularly.
*This post on COVID-19 is updated on the regular. We're not responsible for any innocent mistakes, all information on measures etc. has been taken from the official Dutch government website, which should be used as the main source for all things related to corona at all times.
Update coronavirus 17th-24th of August 2021 in the Netherlands
During this week there was an increase of 5% of positive coronatests. In the testareas of the GGD – the Municipal Health Service – there was an increase of 7% more people that had themselves tested in comparison with the week before. The number of positive tests per 100.000 residents increased compared to a week before from 98 to 100. The number of people that had to be hospitalised with corona dropped with 12% however.
At the intensive care there was the same amount of new patients as a week before. The reproduction number that's based on the number of positive tests is at 1. Ample 22 million vaccinations have been injected.
Dutch COVID measures as of now (as found on the official Dutch government site):
Basic rules for everyone:
Keep following the basic rules to control the spread of coronavirus. People can still infect each other, even when they have been vaccinated. Continue to wash your hands and keep your distance. If you have COVID-19 symptoms, stay at home and get tested as soon as possible. Ensure a good flow of fresh air, too. This will help prevent the virus from spreading.
Wash your hands thoroughly and regularly.
Stay 1.5 metres away from other people.
If you have symptoms, stay at home and get tested as soon as possible.
Ensure a good flow of fresh air.
Wash your hands
Wash your hands thoroughly and regularly with soap and water. This will help prevent the virus from spreading.
Always do this when you get home or visit someone.
Touch your face as little as possible.
Cough and sneeze into your elbow.
Don't shake hands with others.
Stay 1.5 metres away from other people
If people are close to each other they can easily pass on the virus.
So you should keep your distance from people you do not live with, including relatives and friends.
Give others enough space.
Work from home, unless that is impossible.
Wear a face mask where required, such as on public transport and in planes.
COVID-19 symptoms? Stay home and get tested as soon as possible
If you have symptoms, avoid infecting other people.
Stay at home and make an appointment to get tested.
Even if your symptoms are only mild, like a runny nose.
Stay at home while you are waiting for your test results.
Ensure a good flow of fresh air
A good flow of fresh air is important. It is harder for the virus to spread in well-ventilated indoor spaces – at home, in shops, restaurants and bars, at school and at work.
At home, always keep a small window or trickle vent open.
Air rooms several times a day by opening doors and windows wide.
In shops, restaurants and bars, at school, at work and other places where there are a lot of people, keep windows open. Or make sure that the ventilation system is set so that enough outdoor air flows into the building.
In and around the home:
Keep to the basic rules to prevent the spread of coronavirus.
Work from home unless this is impossible. Only go to work if you cannot work from home.
Special events
Weddings: there is no maximum group size. Full capacity is permitted, with 1.5-metre distancing.
Funerals: there is no maximum group size. Full capacity is permitted, with 1.5-metre distancing.
Locations that are open subject to certain conditions
Almost all locations are open, subject to certain conditions, including:
Shops and general markets.
People with a contact-based profession can perform their work. You can go to a hairdresser or masseur or have a driving lesson.
Sports venues, like gyms.
Restaurants, cafés and bars. Conditions include 1.5-metre distancing and assigned seats for all guests.
Cultural venues, like museums, theatres, cinemas, libraries and concert halls.
Art and cultural institutions, such as music schools and arts centres.
Recreational locations like theme parks, nature parks and zoos and laser gaming venues. Spas, saunas and tanning salons are also open.
Closed locations
Dance venues, such as nightclubs and discos are closed.
Events
At indoor events with assigned seats:

Without coronavirus entry passes: full capacity with 1.5-metre distancing.
With coronavirus entry passes: no more than two-thirds capacity.

At outdoor events with assigned seats:

Without coronavirus entry passes: full capacity with 1.5-metre distancing.
With coronavirus entry passes: no more than 750 visitors or, for larger locations: no more than two-thirds capacity.

At outdoor events without assigned seats:

With coronavirus entry passes: no more than 750 visitors.

Indoor events without assigned seats are not permitted.
Outdoor events without assigned seats and without coronavirus entry passes are not permitted.
At locations where there is a continuous flow of people, the maximum number of people is 1 per 5 square metres.
Childcare and education
Daycare centres for children aged under 4 are open.
Primary schools are open.
Out-of-school care is open.
Secondary schools are open. Certain conditions apply.
Secondary vocational schools (MBO) are open. Certain conditions apply.
Higher professional education institutions (HBO) and universities are open. Certain conditions apply.
Sports
Everyone can participate in sports activities indoors and outdoors, including in groups. Conditions apply.
Travel
Avoid crowds while travelling and travel outside peak hours. If possible, do not travel between 06.30 and 09.00 or between 16.00 and 18.30.
If you have holiday plans, make sure you prepare well, because every journey is a risk. Always check the travel advice for your destination on Wijsopreis.nl (in Dutch only).
---
ALSO INTERESTING: Why should I raise my kids in the Netherlands? Click here to find out!
---
How the Netherlands deals with corona: what is happening so far?
Several measures have been introduced since the start of the pandemic. What seemed so far away at first, suddenly took over everyone's entire life. Whatever the future brings, society will never be the same as before the COVID-10 outbreak. This generation of people – and the kids and youngsters especially – will be forever touched by the pandemic. A divide between people that believe in the outbreak and therefore the importance of the vaccination and do not has been clear for a while now. That's a topic for another LDO article perhaps..
Undeniable is however, the fact that the Dutch government has been very confused and confusing on how to tackle the virus. Most definitely, the Dutch approach has not been the best one. In part, because the Dutch people are quite stubborn, and (maybe for the biggest part) because of the changing measures and the changing justification by prime minister Mark Rutte. If you live in the bigger cities of Holland, you probably saw or at least heard of the protests against the measures and the way the Dutch rulers have implemented them.
Without a doubt, you can find at least one 'corona-critic' in every Dutch household. Either way – this divide causes a significant loss of the effectiveness of the Dutch corona measures. If large parts of the populations don't give a single thought to social distancing for example – the measure doesn't work. This problem is most visible in Dutch supermarkets and public transport. This can lead to a lot of frustration. How are you dealing with that?
What are prominent Dutchies saying about the Dutch covid measures?
Tisjeboy Jay is a famous Dutch Youtuber that has been critical about the coronavirus since the beginning of the pandemic. Other prominent Dutchies that don't fully trust the way the virus is presented and has been presented are supermodel Doutzen Kroes, fitness star Fajah Lourens and rapper Lange Frans. All of these Dutch stars took the stage these last 15 years, and Doutzen Kroes has been known internationally since the beginning of her career of course.
These famous Dutchies generally state the same as your uncle or nephew that don't want to believe (everything) the media and government tells us about COVID-19: the virus is a social experiment (Mark Rutte even said it, check it here!), they want to 'reset' the world and don't trust the vaccine. But seriously, can you blame them? We at LearnDutchOnline.nl don't take sides, we just provide the best online Dutch courses you'll find. But we do think it's important to respect everyone's opinion regarding the corona virus. In the end, each one of us has to protect oneself, based on one's capacities and understanding. Judging is easy, knowing the truth is hard. Let's show eachother a little long-awaited love while the governments are resetting our minds and the traffic lights (just joking).
This pandemic has been hard to all of us. Let's not forget that.

---
What is your opinion on how the Netherlands deals with corona? Why? Share it in the comments!
---
What about the COVID-19 measures in the Netherlands?
The Netherlands are easing up the measures taken against the highly contagious coronavirus. As you might have noticed, not every Dutch person is taking the rules seriously. Research actually suggests that this isn't even their fault; the rules are (and definitely were) unclear, and lead to confusion.
As Dutch citizens, and Dutch language and culture experts, we can vouch for this: the measures were irrational, annoying and therefore very confusing in a totally Dutch way. Fortunately, we moved beyond that stage and can at least look eachother in the complete face when asking to keep that social distance or ordering your favorite Dutch 'patat' at your local snackbar. At all times – try to at least maintain a safe distance of 1.5 meters, even though others might not. Abide by the corona rules and prevent fines and the spread of the disease. Work online or find another job where people are trying to stop the virus. Just use that 'gezonde verstand' (= common sense). As we at LDO already did everything online, we were ahead of the curb. That doesn't happen too often though.
How to deal with work stress, loneliness, depression, work issues and the lack of exercise caused by corona?
The pandemic hit us all hard – and in ways we didn't see coming, some of which we still have to discover. Clear as day is that it attacked our mental health too: depression and suicide rates sky-rocketed worldwide, stress levels went up, with obesity and broken relationships following. These tips can hopefully help you tackle your issues due to corona.
First of all, if you're feeling down, restless and/or don't feel like doing anything at all – contact your general practitioner ('huisarts' in Dutch!). He or she can connect you to a therapist, advise you if your symptoms are not that bad (hopefully) and prescribe medicine if necessary.
Having suicidal thougths? Call the Dutch Zelfmoordlijn on nr. 0800-0113 (free number, open 24/7. This is the national suicide prevention center. You can also start a chat on their website. It is in Dutch though, but you can try to find someone that speaks English too. Always talk to a good friend and family member if you're experiencing these thoughts.
If you're experiencing trouble at work, or need legal aid, you can contact het Juridisch Loket. This is a free judicial helpdesk.
If you feel or just know you're dealing with racism or discrimination you can contact Meldpunt Discriminatie. If you're under serious threat or in acute pain, call 112 for the Dutch police, ambulance and fire brigade.
Tip #1: Train, train, train! And eat healthy
Yes – it IS true: your health is more important than ever. Even though the pandemic seemingly comes to an end, there's still alot of stress, mental confusion, depression, loneliness, fat gain etc. – all because of the social distancing and lockdown. The best way to get rid of these symptoms is to do some form of physical training – preferably in a group or at a place where you can also socialize. Check out LDO's top 5 best gyms of the Netherlands here!
Don't forget: alot of people, if not most, need to adapt to the normal way of doing things again: being close to eachother (literally), making small talk, being in a place with other people, smiling etc. So it's completely okay if this takes a while. But staying home, or even training in and around your place won't make all your corona-induced issues go away. LDO's advice: to improve your mental and physical health and reduce your chances of getting infected, do some form of weightlifting and some form of conditioning.
You can get a brand-new bench from Decathlon (rated best actually) for under 80 euro's. Buy some dumbells and order a jump rope – and you're all set. No excuses. Make sure to work your whole body, focusing on the big muscle groups: your back, legs, chest, abs and shoulders. Then focus on the smaller muscles like your biceps and triceps. Done correctly, you'll not only feel amazing – but look amazing too, in just a couple of months.
For example – find a calisthenics park where you can meet other people and do a 30-minute bodyweight workout. Then go for a nice run together. This way, you're outside, socializing, training your body and mind while releasing that corona-stress and giving your immune-system an essential boost!
In terms of food..
..focus on protein, healthy fats from fish and olive oil for example, veggies and fruits. Drink at least 2 liters of water every day and sleep at least 7 hours. Reduce stress by relaxing (your favorite Netflix series or yoga should suffice). Ever tried intermittent fasting? It does all of the above or helps with it at least. And it's free.
Tip #2: Stay social by actually using social media for what it's meant for
Yes – you read that right: stop the mindless scrolling and comparing on your Insta, TikTok or Facebook (for the millenials here, we see you;)) and start using those social platforms in a way that actually benefits you. Make new friends by joining groups based on your personal interests and hobbies, video-call at least once a week for 20-30 minutes with friends and family (both if you can!) and call your mother, father and grandparents. If you can, do visit them, but as an expat in Holland this might be hard. So really take those Skype- and Whatsapp video call seriously! It will do you alot of good.
You can start a daily vlog, in which you share your thoughts on corona till now and how it affects you, in just a couple of minutes. This can be a great outlet, and other people will definitely identify with you and connect to you on a real level – not just because of your fancy food and vacation pics. Did corona make us more real? We at LDO definitely hope so. Another tip, for the cameraphobes: start your podcast, and rant away. Just don't tell LDO gave you the idea.
Tip #3: Don't get mad in the supermarket – or anywhere else
Apparently, it helps to get mad in the supermarket. All jokes aside: getting mad because of weirdos that feel like they don't have to respect the rules, is actually bad for your health. Politely ask them to keep their distance, if not, inform an employee or the manager of the place you're at. Don't get worked up, as everyone is having a hard time dealing with still a weird situation. And alot of times you don't actually know why people aren't respecting the rules. Maybe they don't know; they can be deaf, blind, psychotic – so just make sure you uphold the rules, and protect yourself and your loved ones as best as you can.
Tip #4: Walk in nature every day
Don't underestimate this one: several studies have showed that taking a stroll through green, natural areas for at least 30 minutes will decrease anxiety, body fat, loneliness and increase your overall wellbeing. So, look up the nearest park or forest and order some new hiking shoes. Or simply check out this list for some of the best green areas of the Netherlands. If natural areas are too far from you place, a walk in your neighbourhood will also suffice – as long as it's thirty minutes. Obviously, not all benefits will be reaped if you only walk between concrete – but you still get some steps in, some fresh air in your system and you might meet someone fun. Who knows?
Rutte's press conferences
According to a lot of people, prime minister Rutte is no longer trustworthy. He first tried to push vaccinations, then argued for herd immunity and explained the measures as if they all worked out – including the curfew. But if you replay all his press conferences since the covid-outbreak started in the Netherlands, everyone can see why lots of people are mad and frustrated. Just check the comments under the video we shared here with you, on the Youtube channel of one of the Netherlands' most well-known newspapers:
'After only 3 minutes, 4 lies have been told already' – commenter Bastiaan.
'Which relaxations? This can't be explained anymore. Again canceling events while soccer arena's have been full for so long. The F1 can continue with 70k men..(..)' – commenter b. on Youtube.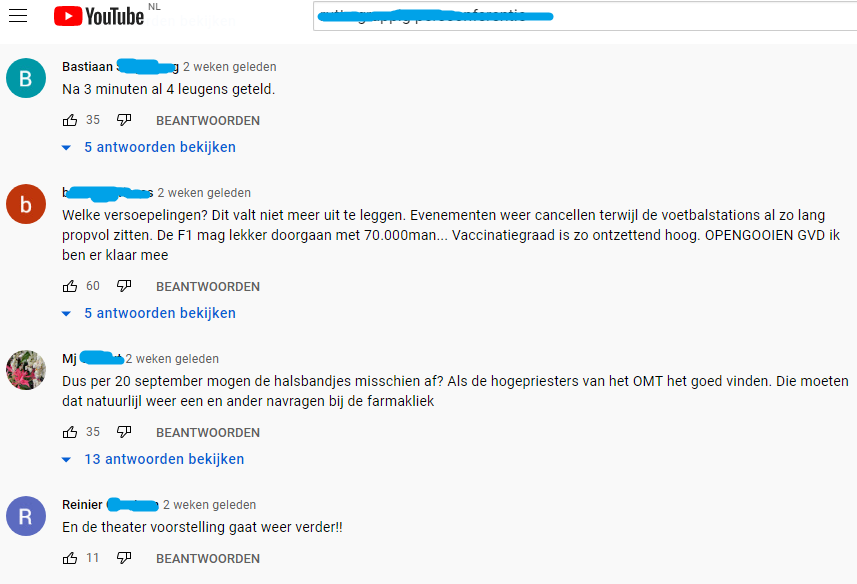 Last but definitely not least: LDO's opinion on how the Netherlands deals with corona
We at LearnDutchOnline.nl have a clear opinion on the way the Netherlands is dealing with the pandemic: it's still very confusing and causes lots of frustration for alot of people in Dutch society. If you followed the news yourself, you know that prime minister Mark Rutte first talked about 'herd immunity', and after a while suddenly vaccination was necessary. When slightly critical reporters confronted him with his (seemingly) random measures, he dodged the question and said something like 'I don't have an active memory on that matter'. This was a national meme for a while. Unfortunately, this is the level of Dutch politics these last years, and Mark was (and weirdly still is) not only the leader of the country but also the leading meme source of Holland. That's at least one thing he can be truly proud of. Goed gedaan Mark!
How did you experience the COVID-19 situation in the Netherlands so far? What could have been better? Share your view with us in the comments!
Now – after months of living in a lockdown with little to no social activity – we're glad everything is opening up again. Let's hope it stays like this. The time in isolation has been hard for us at LearnDutchOnline.nl as it has for everyone, and we're not waiting for another lockdown due to any new 'variant'of corona. But we're not waiting for another round of hoarding toiletpaper as well. Will we get a third vaccination? Time will tell. Let's just take the time breathe and find ourselves for now. And enjoy the moment, alone and together. Because if there's one thing we should have learnt from this pandemic, it's that you should value your time. Especially the time with your loved ones.
-The LDO Crew
Let's talk about how the Netherlands is dealing with COVID-19